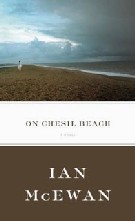 Finished
the 2007 Booker favorite, On Chesil Beach (2007) by Ian McEwan.

A novella of the failure of two people that thought they loved each other to speak truthfully to each other and to truly want the best for each other.
The woman, Florence, traveling to Chesil Beach for her honeymoon with her husband of a few hours, looks forward to her marriage consummation with " a visceral dread, a helpless disgust as palpable as seasickness" [p.8].

Florence has rich, intellectual, and self-obsessed parents; Florence's mother is not someone to whom Florence can confide; Florence's father (we learn early) traveled with her alone; at age 12 she shared hotel rooms with him, setting up an unresolved innuendo that Florence received inappropriate sexual attentions from her father on those trips, and perhaps lessons in not talking about sexual matters. Concerning Florence and her father, the would-be husband (Edward) thinks "they were intensely aware of each other, though, and had the impression they exchanged glances when other people were talking, as though sharing a secret criticism" [p.140] and "that he [the father] was rather too keen to give his daughter away" [p.141].

Initially more time seems spent with Florence's perspective, so one feels quite sympathetic to her and her offer of an unusual relationship to Edward.

But with increasing information about Edward, he evolves from a rather pathetic character into someone that Florence could loved and, had they both had patience and courage, someone that could have even been a Leonard Woolf to Florence's Virginia.