---

NICK HERBERT HOME PAGE

---


come open your sensors to Nature's flirtations
come lend your step to My Dance
I'm only fourteen (billion) years old
but I'm eager and ripe for romance.
---
Personas
Books
Visit amazon.com--Earth's Biggest Bookstore
---
Life-Enhancing Sites
---
Nick's Favorite Websites:
Astronomy Picture of the Day: Astonishing photos from NASA and elsewhere.
Love Letters to Miss Liberty: The Wit & Wisdom of Dave Fazo
boing-boing: Boy's and Girl's Global Guide to Geekdom
J. Orlin Grabbe's Website: Daily links to important and under-reported news. (RIP Orlin. His site continues.)
Bruce Damer's Website: DigiBarn, EvoGrid, Much life here--simulated and real
3quarksdaily: Intelligent essays on science and culture.
Antiwar.com: News you can't find in mainstream media: Justin Raimondo's column is superb."It's much harder to smear someone on the internet than it is on paper, without showing up the smearer as a liar. In criticizing the views of an opponent, one is obliged to come up with a link ­ so that readers can see for themselves if the criticism is fair."--Justin Raimondo.
Jeff Rense: A provocative mix of outlandish and perceptive commentary on current events.
Fractured News: Headline news filtered through a high-IQ alien intelligence.
David Irving's Website: Great Satan or Truth-seeking Maverick? Decide for yourself.
New Scientist Magazine: Daily news from Britain's premier science magazine.
Los Alamos Archives: Raw physics reports from the edge of science
---
Strange Sites:
Variation on a Theme by Dylan
Portal to Life Enhancement
Science You Can See:
Eros Outreach:
Tantric Resources:
Projects:
Consciousness Research
Recent Publications
Videos
---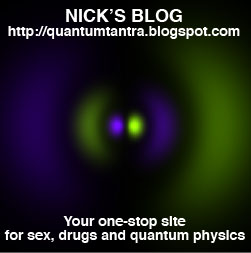 ---

Thanks to CRUZIO for the site space.
Thanks to DreamweaverMX for a great webpage editor.
Thanks to http://www.digits.com for counter
You are GUEST NUMBER
at NICK HERBERT SITE.
LAST UPDATE: Aug 28, 2013

---

P-MAIL: usps://usa.ca/95006.bouldercreek/box261/nick.herbert
E-MAIL: quanta@cruzio.com
---
---