About the Artists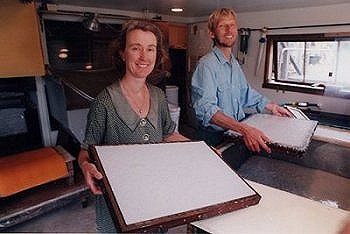 Since 1976 Peter and Donna Thomas have worked collaboratively and individually, making paper, letterpress printing and book binding, to create books. Under the previous imprint of The Good Book Press, and the current imprint, Peter and Donna Thomas: Santa Cruz, their books have been shown in individual and group exhibitions in the USA and abroad, and have been purchased for collections around the world.
Donna (Millar) Thomas was born in 1957 in San Francisco, California. She attended Sonoma State University where she studied art. She graduated in 1979 from the School of Expressive Arts. Peter Thomas was born in 1954 in Los Angeles, California. He attended the University of California at Santa Cruz where he studied the book arts with William Everson at UCSC's Lime Kiln Press. He graduated in 1978 with a major in Aesthetic Studies. From 1974 to 1990 they made and sold books at the Renaissance Pleasure Faire. During that same time they also taught papermaking and bookbinding workshops. Once an old book binder told them, "You can't buy experience." This proved true, for school and workshops only introduced them to concepts or techniques. What they learned came from practice.
In 1976 they established a private press. At that time their goal was to create books in the tradition of the great private presses: limited editions, made of the finest materials and produced with the highest standards of quality. They printed their first book in 1978, and spent the next ten years producing "fine press" books in both full size and miniature format. To assure that the books they made reflected their intent, they always made the paper, print and bound the books completely by themselves. In the late 1980's, concurrent with the infusion of new energy which spread through the book arts community when it was introduced to the personal computer, the Thomas' vision of the book they wanted to create expanded beyond simply "fine press". They began to work in new formats, exploring non-traditional book structures and shaped book objects, as both limited editions and one-of-a-kind books. In 1992 they printed Good Books, a bibliography of their work. This lists over fifty titles, representing many authors and a wide range of subjects, but the Thomases are not just publishers: they are artists who work in the medium of the book.
Throughout their career they have been active in the leadership of both national and international book arts and papermaking organizations. They have lectured and taught workshops to book arts students internationally and have published articles on papermaking and other aspects of the book arts. During the 1990's they began to travel, giving workshops and lectures. In the Early 90s they began a project to document the history of papermaking, both at home and abroad. They have published a number of books that document the renaissance of the craft. They also made video documentation of traditional hand papermakers in Europe and from that research produced a video on the ergonomics of hand papermaking. In 1996 they were invited to Australia to teach a five day "Masters Class in book and papermaking" at the annual Fiber Forum. In 1997 their binding was given special mention for innovative design in the Helen DeGolyer Triennial Exhibition. In 1997-98 The Guild of Bookworkers featured the Thomas' A Collection of Paper Samples Handmade in the USA as the set book for a national traveling show titled Paper Bound. In 1998, and again in 1999, one of their books was chosen for the Distinguished Book Award by the Miniature Book Society and in 1997 the society presented them with the Norman Forgue Award for their work promoting in the miniature book. In 2001 their binding of James Joyce's Ulysses was awarded the Judges Distinction for Innovation in The Helen DeGolyer Triennial for American Bookbinding and the Art Museum of Santa Cruz featured their work in a comprehensive show titled Art Undercover.
Recently Donna has been working on miniature one-of-a-kind books that have calligraphy text and watercolor illustration. These books are leather bound with tiny picture leather onlays. Many are about nature, John Muir and the Sierra Nevada Mountains. Peter is working to complete his history of papermaking in the Philippines. He has also been exploring the relationships between paper and fire and he is making a series of books out of instruments, modifying old ukuleles and accordions into various book formats and structures. Together Peter and Donna continue to produce a number of miniature and full size book editions each year.
A list of selected shows follows the biographical essay. To see complete listings click on the following topics:
Introduction from 1992 Bibilography, Good Books
The first thing everyone wants to know is, "How did you get started?" It's not a simple story, but life is that way. In high school I was on the pre-collegiate track, which did not allow much time for art classes. But I was interested in writing fairy tales, having long hair and wearing funny clothes. Perhaps these interests were what lead me to the Renaissance Pleasure Faire, where as a modern Don Quixote I found my destiny. When in college, I became got involved in the Faire as a volunteer actor, and with a couple of thousand other people I played a part in recreating an Elizabethan market village. What does this have to do with book arts? For me it was the beginning. Actors slept on hay bales and craftspeople had booths. I wanted a better place to sleep so I needed a craft. The only thing resembling an Elizabethan craft I could do was write fairy tales, so I applied for a booth where I would write and print a fairy tale with four beginnings, four middles and four endings, and teach the visitors how to bind it into a book. My proposal was accepted. I wrote the story and got a friend to print it at his fathers print shop. Then I had to learn how to bind books.
I went to the library, to the 600 section, to find some books on bookbinding. Of course I got distracted and found myself reading a book titled, Papermaking: The History and Technique of an Ancient Craft by Dard Hunter. When I read that the first papermill in England was built in 1492, I thought to myself that papermaking would be even better than bookbinding as a craft at the Faire. But since I had already committed to bookbinding I thought, "I'll just learn both." My early follies make good stories to tell on long evenings, but now I will only say that as I taught, I learned.
I had as my goal to be able to make paper and bind books as they did in the sixteenth century. I don't know how I actually learned to make books. Mostly it was just doing it, being prodded on by the childhood memory of my neighbor saying again and again, "If you are going to do something, do it right." One day, between teaching classes, I made a few blank books. They sold immediately and so I made more, and more, and more. An old bookbinder stopped by and shared with me his wisdom, "You can't buy experience." I didn't buy it, my customers did.
At the same time Donna was attending Sonoma State University, taking art classes. She was roommates with my sister and together they came to the Faire to help me out, teaching papermaking and selling my blank books. I taught Donna how to sew books. She learned so fast that before I knew it, she was binding books with me.
I continued my eclectic studies at UCSC. In the McHenry Library foyer stood an old acorn shaped iron handpress. William Everson, master printer and poet laureate of Kresge College who dressed in buckskin and bear claws, taught students to use the press while printing fine press books. I didn't know what "fine press" was, but thought to myself, "Since I am making books and paper, I should know how to print." With several other students I worked as an apprentice. No questions were asked and no answers were given. Everson led us through the mysteries of the Black Art in silences broken by cries to the gods for mercy. In the end we knew typography and printing and the desire for perfection.
I bought my own press and with Donna's help I began to print; first a broadside and then when we had enough type, a book. Everson encouraged the printing of books, "It is by ephemera," he said, "by keepsakes, that both the amateur and the professional are today most easily seduced from the true end of printing..." We did not use a press name for that first book. But our second book, The Tale of Cara-sou and His Magic Word, had The Good Book Press on the title page. One of my favorite childhood fairy tales was The Good Sword. In this story a poor shepherd, with his dying breathd bequeaths his son the sword which hangs over thier doorway, saying it will never fail him in time of need. We wanted a press that would never fail us and so we called our Challenge MP15 proof press the Good Book Press. The name also stood to remind us of our goal: to make good books. With this in mind we printed the following announcement: It is with great pleasure that we take this opportunity to acquaint you with the work of Peter and Donna Thomas who produce books and paper under the imprint of The Good Book Press. Were one to ask them what makes a Good Book, they might reply, "Beautiful paper, crisp printing, a binding that opens easily..." It is their goal to create books in the tradition of the great private presses: deluxe, limited editions, made of the finest materials, produced with the highest standards of quality. Peter makes the paper from cotton rags. These are pulped in a hollander beater, then mixed in more water. Using a mould & deckle the fiber is separated from the water. It is then couched onto a felt, pressed & hung to dry. Donna cuts linoleum for illustration or ornament. Together they set the type which is letterpress printed on a hand operated printing press. They also hand bind the books. Pages are folded and sewn together using a needle & thread. The bindings are leather or other quality materials, constructed in traditional methods which insure the book will open easily and lay flat. They employ their skills making miniature books (under three inches), larger books, and broadsides (posters with type and illustration). Because they execute every aspect of manufacture, all their work is unique and each piece can easily be recognized as another fine product from The Good Book Press.
In 1980 Donna and I made a small book, Yotan's Vision from scraps of English handmade paper salvaged from the Lime Kiln Press's Granite and Cypress. I showed it to Muir Dawson who I had met through our mutual interest in papermaking and the coincidence that his son was in my graduating class at UCSC. He was not very interested but suggested I show it to his brother. Without much hope I showed it to Glen Dawson. He looked at the book, pulled out a ruler, measured it and said, "If you can make it a quarter of an inch shorter I will buy twenty." I was in shock. Luckily we had not bound the whole edition, and although we didn't want to trim the perfectly proportioned margins, we made him twenty books. We were now miniature book artists and our lifes were changed forever.
Selected Shows
(* indicates there was a catalog of the show. List updated 4/2002)
1983 Breaking the Bindings. Madison, Wisconsin.*
1983 Miniaturna Knjiga, International Exhibition of Miniature Books. Liubljana, Yugoslavia*
1985-1998 Western Books Exhibit. A traveling exhibition, Western USA*
1986 Santa Cruz Printers' Chappel Book Arts Exhibition. Santa Cruz, California*
1987 Miniature Books: Gleeson Library, University of San Francisco, San Francisco, California
1988 East-West: Hand Papermaking Traditions and Innovations. The U of Delaware Library, Newark, DE*
1989 Het liep in de paperen. Koninklijke Bibliotheek, The Hague, The Netherlands*
1992 Fine Printers Finely Bound Too. Guild of Book Workers: Traveling exhibition*
1993 The Well Crafted Book. The Oregon Books Arts Guild, Oregon State Library, Portland, Oregon*
1994 Masters of the Craft. Center for the Book Arts, New York, New York* Invitational
1995 Contemporary Paper Art Works '95. Imadate Art Hall, Imadate, Fukui, Japan.*
1996-1997 Paper Bound: A Showcase of Contemporary Papermakers and Bookbinders. Twenty-one bindings of A Collection of Paper Samples by P & D Thomas. Guild of Bookworkers. Traveling show*
1997 The Helen DeGolyer Triennial Exhibition and Award for American Bookbinding. Bridwell Library, SMU. * Award, Innovative Design.
1998 Twenty Years of Books from the Press of Peter and Donna Thomas. PA, NY, LA & SF.
1998 Eleventh Annual Miniature Book Exhibition. The Miniature Book Society. Distinguished Book Award for the book Almost Paper.*
1998-1999 Art of the Book 98. Canadian Book Arts Guild, Toronto. Traveling show. Juried*
2000 The Helen DeGolyer Triennial Exhibition and Competition for American Bookbinding. Bridwell Library, SMU. Award, Judges Distinction for Innovation.*
2000 Books as Four Dimensional Art: the work of Peter and Donna Thomas. Monterey Pacific College Gallery, Montery, CA. Retrospective show.
2000-2002 Best of the Best. Guild of Book Workers. Traveling Exhibit.
2001 Art Undercover. The Museum of Art and History, Santa Cruz, CA. Solo show.
2002-2003 March 4-Jan 5. Temptations, Book as art XIV, National Museum of Women in the Arts. Washington DC. *
Selected Workshops and Lectures by Peter and Donna Thomas
1994 Workshop: Advanced techniques in hand papermaking. Congress of International Association of Hand Papermakers and Paper Artists, Den Hagen, The Netherlands.
1995 Workshop: Papermaking and Non Adhesive Bindings" Teknikon Natal, Durban, South Africa.
1996 Lecture: Books of Twentieth Century Papermaker/Printers. Book Club of California. San Francisco, CA.
1996 Workshop: Masters Class in book and papermaking. Fiber Forum, Mittagong, NSW, Australia
1996 Workshop: The Miniature Book. Staff Instructors: North Redwoods Book Arts Conference. Arcata, CA.
1996 Lecture: The Book as Art. Rutgers College, New Brunswick NJ
1997 Workshop: Innovations in Miniature Books. Colombia College Chicago Center for the Book Arts. IL
1997 Workshop: Bookmaking, an introduction to the craft. Woodland Pattern, Milwaukee WI.
1997 Lecture: Exploring the Literary Book as an Object. University of the Arts, Philadelphia, PA,
1997 Lecture: Aesthetics of a Book: The Book as Art. McCabe Library, Swarthmore College, Swarthmore PA
1997 Workshop: Exploring the Miniature Book. Pyramid Atlantic, Riverdale, MD.
1998 Lecture/workshop: The South West Crafts Center. Exploring the Miniature Book.
1999 Workshop: San Francisco Center for the Book.Exploring the Miniature Book.
1999 Lecture/workshop: Summer Writing Program, Naropa Institute, Boulder, Colorado. Letterpress Printing.
1999 Lecture/workshop: FDH: Chicago. Western Sheet Forming Techniques.
2001 Lecture/workshop: Letterpress and the Miniature Book. Southwest School of Art and Craft. San Antonio, TX
2001 Oct 18. Plaindromes and the Miniature Scrolling Book. Center for Book Arts. NY, NY.
2002 Winter Term. Book Binding for the Artist. Santa Cruz Art League. Santa Cruz, CA.
Collections
Books made by Peter and Donna Thomas are found in private and public collections around the world.
Major collections of their work can be viewed at: UCLA, UCSB, UCSC, Swarthmore College, The University of Delaware, The University of Georgia, Millersville University, The Huntington Library, The Newberry Library, Koninklijk Bibliotheek, Temple University, The University of Vermont, Smith College, Mills College, Princeton University, Harvard and Yale.