George Emanuels
1908 - 2005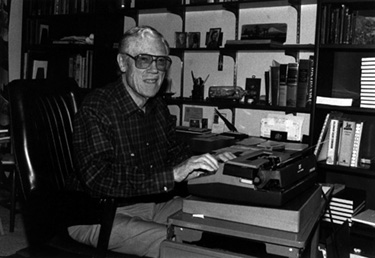 George Emanuels at his desk, enjoying his study of early California history.
---
Books by George Emanuels
Ygnacio Valley 1834-1970 (1982)
John Muir Inventor (1985)
California's Contra Costa County - An Illustrated History (1986)
Our First One Hundred Years (1988)
The story of Mason-McDuffie...
California Indians - An Illustrated Guide (1994)
Diablo Books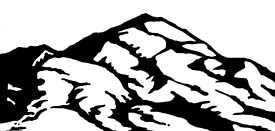 ---
George Emanuels passed away in Sonoma on Sept. 28, 2005 at the age of 97, healthy and alert to the end. His wife, Helen Parsons Emanuels predeceased him in 2003 after 75 years of marriage.
Born in Berkeley, he attended the Montezuma School for Boys in Los Gatos and the Canadian Academy in Kobe, Japan (his father being employed as a sales manager in that country). While attending San Mateo Junior College he met his future bride and they were married at her parents' ranch house in Walnut Creek. After a career in Bay Area sales, George and Helen traveled extensively in their Airstream trailer and led dozens of caravans throughout the United States, Mexico, and Europe.
He collected California history books and was the author of seven: Ygnacio Valley, Walnut Creek - Arroyo de las Nueces, Contra Costa County illustrated, California Indians Illustrated, Sonoma Schools and Scows, John Muir - Inventor and Early California Voyages.
In 1992 George received an "award of merit for local history" from the California Historical Society. He had been an active member of Walnut Creek, Contra Costa and Sonoma County historical societies.