The Concertina Book. (2013) by Peter Thomas. 7 by 7 by 7 inches. 18 accordion pages. $1,850.
This book was made by slicing the bellows of a no longer functioning vintage concertina to create an accordion book structure. The images and text panels were then inserted into the bellows to create the pages. The text is a series of limericks, each making reference to the concertina. The text was digitally set and printed on Peter's handmade paper. The rubrication around the text was hand drawn by Donna. The images are vintage photographs of concertina players. The images have been digitally printed on Peter's handmade paper and then hand colored by Donna.
This is a one-of-a-kind book. As he had acquired two similar concertinas, we decided to make two one-of-a-kind concertina books at the same time. The two books differ in the way the bellows were cut to make the pages. One has a codex format, the other one is dos-a-dos.
Both concertina books are part of a series of concertina books that started with the Real Concertina Binding made in 2001 to humorously clear up any confusion book artists might have as to whether a book they make should be called a concertina binding or an accordion binding.
Definitions from Webster's Dictionary:
Accordion ac·coir·di·on noun
A portable box shaped musical instrument with a keyboard or buttons on the right hand side and buttons on the left hand side of the instrument.
Concertina con·cer·ti·na noun
A small octagonal or hexagonal accordion with button keys on both sides of the instrument.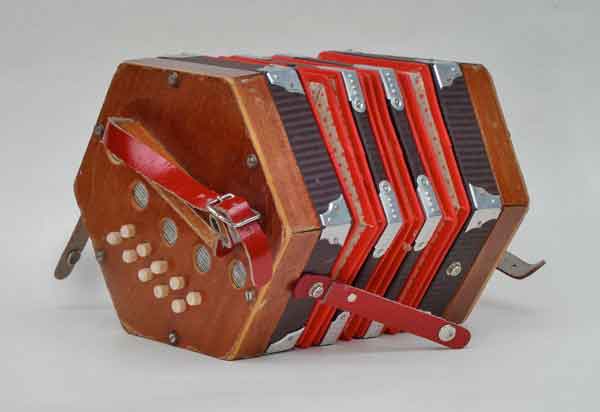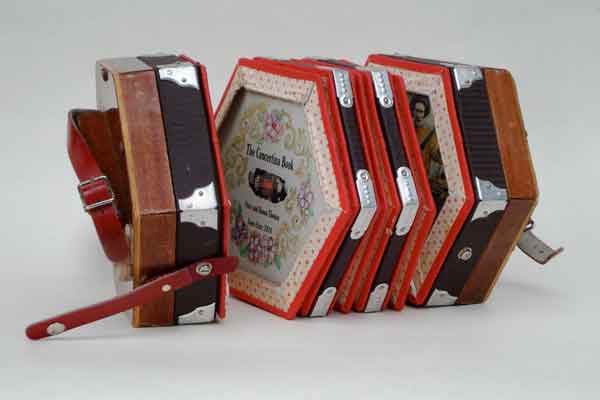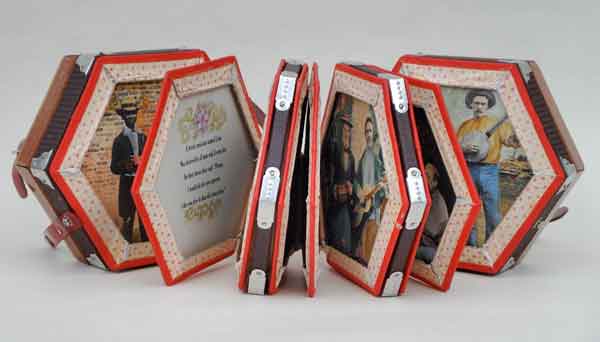 ---