Sometimes I Pretend. (2014) by Naomi Shihab Nye. 4 1/4 by 10 3/8 by 4 1/4 inches. One scrolling page. 35 copies. $695.
This short poem by Nye has been hand set with various sizes and fonts of wood and metal type and printed as a scroll, in multiple colors using a "rainbow roll", on Peter's handmade paper. The paper is also illustrated with with two paper pulp stenciled steam punk images made by Donna. Each image was sprayed using 4 colors of pulp through 2 or 3 stencils. The spray pulp was made from old colored rags with no added pigments. The scroll is bound in a unique box structure made with paper pulp stenciled handmade paper and California walnut. The box also features wooden sprocket cranks made from straight grain maple, inscribed with the word "close" and an arrow indicating the direction to rotate the sprocket to return the scroll into the box. There is a pencil attached to the end of the scrolling text to restrain it from slipping into the box.
We found the words "secret motor chirring" central to our reading of the poem. Our interpretation of Nye's poem was informed by previous explorations into this timeless theme, both by British arts and crafts fine press printers when they said "don't let yourself become part of the machine, but work to create beauty with your hands…" and the visual depictation of Charlie Chaplin in"Modern Times" when he works at the assembly line or as he swings precariously from the hands of the giant clock, and this led us to bind the book as a motor. This also inspired our use of the clock and pencil imagery and the pencil page stop, which for us symbolize the relentless call of work.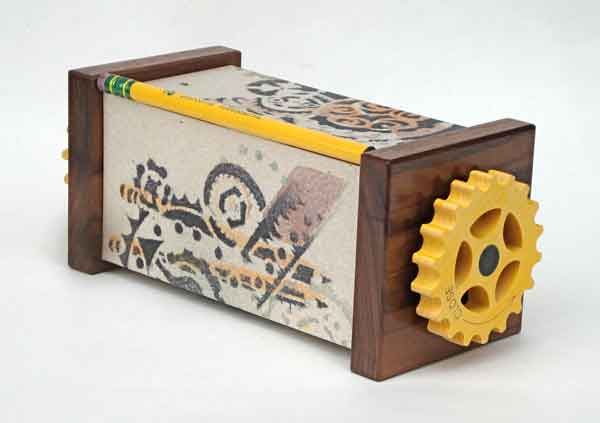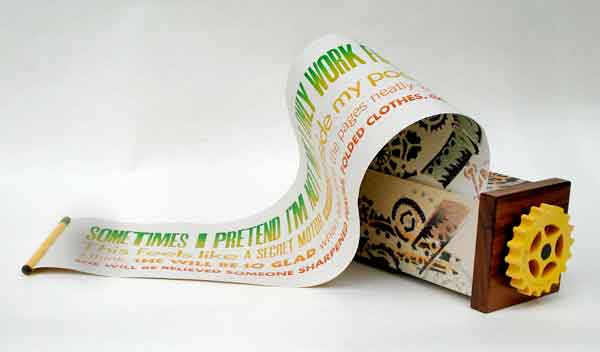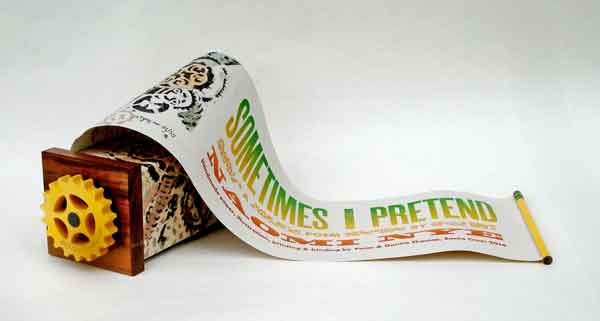 ---