PETER & DONNA THOMAS

260 Fifteenth Avenue Santa Cruz CA 95062 (831) 475-1455
The Alder (2012) William Everson.

30 special copies. $2400.Two books in a clamshell box..
Poem: 13 by 11 by 4 inches, 6 pages. Documentation: 12.5 by 8.25 by 1 inches, 12 pages.

20 regular copies. One book in leather slipcase.
$950. 12.5 by 8.25 by 1 inches. 18 pages.
Special copies:
Two books are housed in a beige cloth covered clamshell box that has leather closures and the title, printed on a paper label, on the spine. One book is the frame-as-a-page binding of Everson's poem. 13 by 11 by 4 inches. 6 pages. The binding is made using Alder wood harvested from the grove where Everson cut the tree described in the poem. The text is letterpress printed on Peter's handmade paper using handset 18 pt Goudy Newstyle type. The illustrations are made with sprayed paper-pulp through stencils created by Donna Thomas. The second book is The Companion to The Alder. 10.25 by 8 by 1 inches. 12 pages. This book has been coptic bound between alder wood boards and the binding is held in a leather satchel, (what Everson called a parfleche). The text is digital 14 pt Goudy Newstyle letterpress printed on Peter's handmade paper. The illustration is a lino cut made by Donna Thomas. There are 30 special copies. $2400.
As we have come to understand Eversonís poem, through the process of creating this book, the poem's alder tree represented for Everson his own lost potential. In the poem the poet fells an old and stately tree, but only to use it as firewood. Everson was at the height of his career when he was working on this poem, and had recently been diagnosed with Parkinsonís disease. Like the alder, he was cut down in his prime, no longer able to create the work he previously thought possible. Shortly before he died, Everson confided to me his dream that his library and the A-frame building he had built with his own hands, would become a literary shrine, a place of pilgrimage, like Jefferís Tor House. Everson died penniless. That A-frame library had been built on rented land owned by benevolent landlords, but it was not his own, and on his death passed to new tenants. Symbolically, we made our book using of tiny pieces of alder wood to represent the fire wood fate of the alder in the poem. Rather than destroying, burning, those small bits, we built the binding for this poem using them. This book became a way we could fulfill Eversonís dream of creating a literary shrine for his words. This book is that literary shrine, a monument to his work and his life.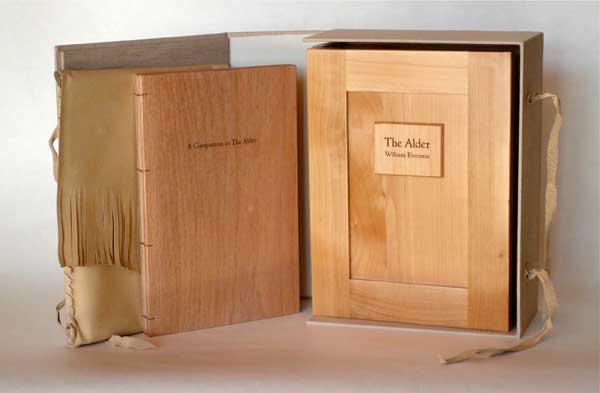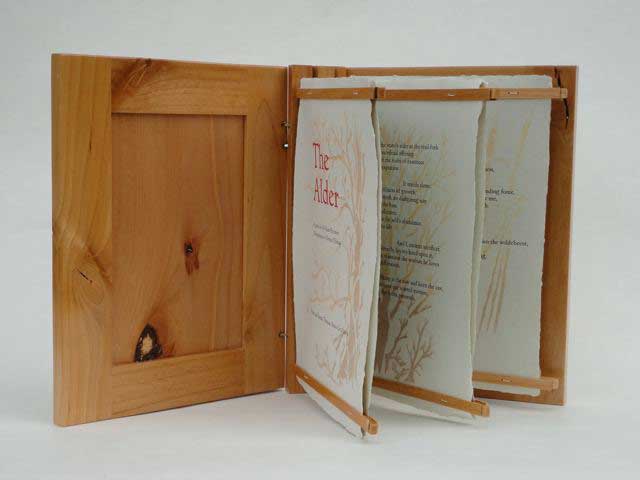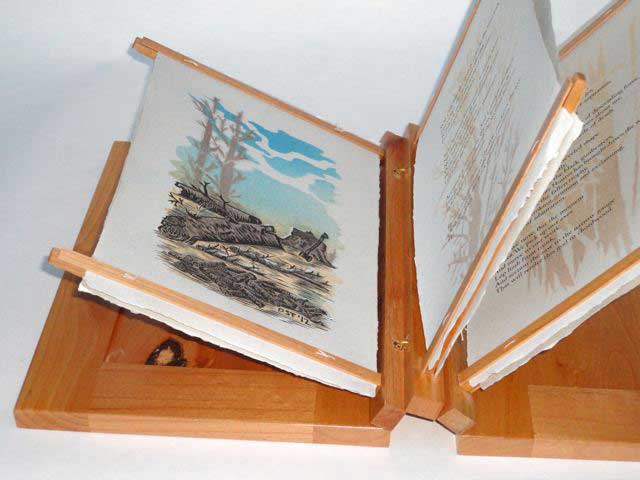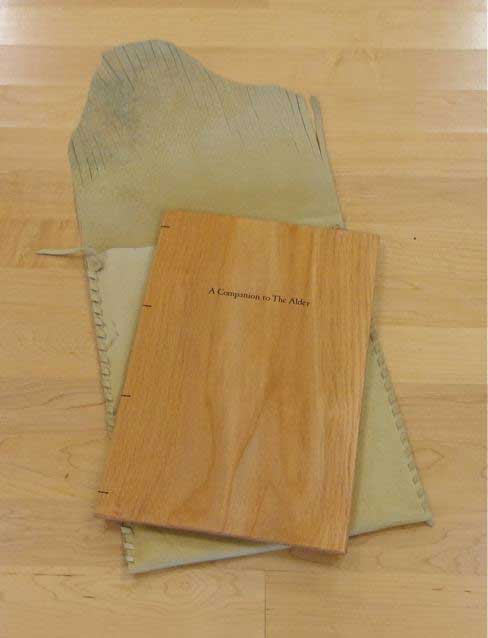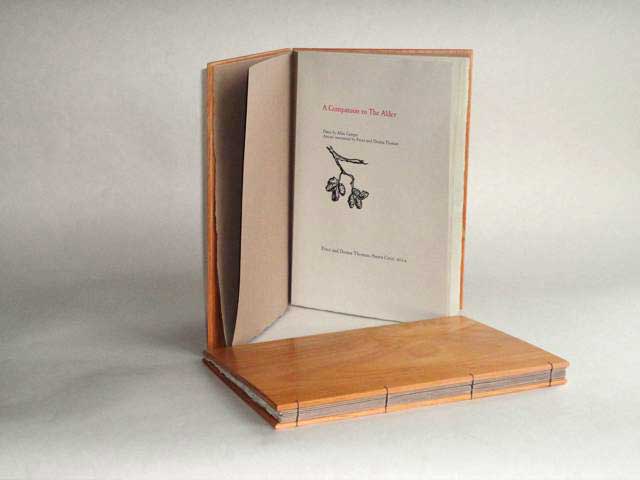 Regular copies: 12.5 by 8.25 by 1 inches. 18 pages.
One book combines both texts of the special copies. These copies combine the pages from The Alder poem and The Companion to The Alder in a single binding. The binding is the same as the second book in the special copies: coptic bound between alder wood boards and the binding is held in a leather satchel. The text is printed and illustrated as described above.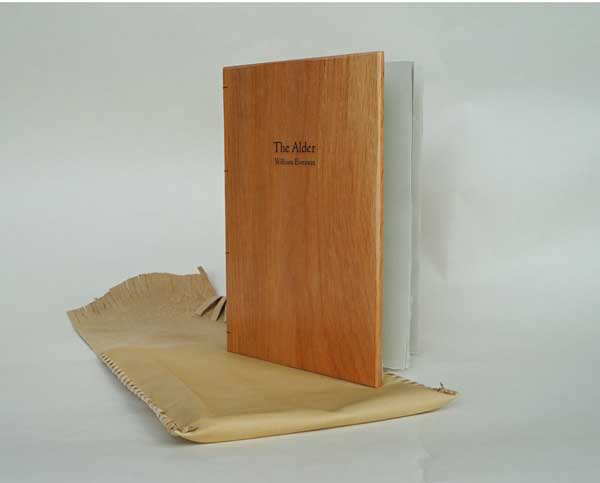 Information about The Alder:
When William Everson produced the 1975 Lime Kiln Press edition of Robinson Jeffers' Granite and Cypress he took fine printing to a new level. That book, with its edificial binding, ghost printing and Everson's signature on the colophon as artist rather than author, demonstrated a book has the capacity to embody artistic as well as literary ideals. Granite and Cypress was the first of a new genre of art: the fine press artists' book. When we conceived theidea to make an artists' book using Everson's poem"The Alder" asthe text, we decided to refer conceptually, in a number of different ways, to Everson's masterpiece, Granite and Cypress.
Everson's greatest works of fine press printing all used Goudy Newstyle type. Everson claimed it "had a certain magic". We used Everson's own Goudy Newstyle, the same type he used for Granite and Cypress, to print our book. We were able to print the book using the same ink Everson used, Mandlick Dull Strong Black ink, as I had a can that I bought when working with him at UCSC's Lime Kiln Press
We made the paper for The Alder, and explored a new papermaking technique for this book, creating the background colors for Donna's linoleum cuts and the shaded background images behind the poem by spraying colored paper pulp through multiple hand-cut stencils onto each newly formed whet sheet of paper, a process we now call "paper pulp pochoir."
We first developed the binding weused for this book, what we call a frame-as-page binding, in 2000 for Three Kinds of Magic, and had always hoped to find a suitable project for it. Everson's poem provided the perfect opportunity. The wood and stone Everson used for the monumental slipcase ofhis Granite and Cypress came from the site ofJeffer's Tor House. The wood we used for our binding isalder from an alder tree felled near Everson's home, where he cut the tree in the poem, on Kingfisher Flat in Big Creek Canyon near Santa Cruz. The tree was cut and milled by Big Creek Lumber, the same company that milled the cypress for the monumental slipcase of Granite and Cypress. Additionally, we printed an essay about the poem by Allan Campo and our artists' statement as a separate book titled "A Companion the to Alder". This book is is also bound between Alder boards and is slipped inside a fringed leather bag. We chose to place it in a leather bag because Everson, who dressed in a buckskin jacket and wore a bear claw necklass when we knew him, always carried a leather handbag (which he called a parfleche). In the special copies both The Alder and Companion are placed together in a cloth covered clamshell box. In the regular edition the pages of The Alder poem are bound between alder boards with the text of the Companion and slipped into a fringed leather bag.
Everson's aesthetic guided our early work. He helped us as we designed and printed both The Poet is Dead and The Tarantella Rose. When we were looking for an unpublished poem to print he suggested we print his poem about the"stately alder at the trail-fork," but years passed before we got to the project. It was a poem he had started while composing his book The Masks of Drought, but it was not finished when the book went to press, and so it was abandoned and languished in draft form on a yellow legal pad.
As we began to make this book, this time without the benefit of Everson's advice, we found, as he had once said, "A book takes work. A book is a terribly cruel and demanding process: there is nothing easy about it. It takes deep, profound thought and an awful lot of risk taking." For us, making this book, like Everson turning the alder to cordwood in the poem, was hard work, but the work had its own rewards.
Peter and Donna Thomas
Santa Cruz, California
---