PETER & DONNA THOMAS


260 Fifteenth Avenue Santa Cruz CA 95062 (831) 475-1455


Glen Dawson (2008). A timeline biography of a respected bookseller. 1 5/8 by 2 15/16 inches. 14 accordion pages. 65 copies. $50.
This book is a colorful and typographically stunning time line of the life of Glen Dawson. Dawson was a pioneer mountaineer, claiming one first ascent of Mt. Whitney in the 1930s. He was also a preeminent bookseller, partners with his brother Muir in Los Angeles' Dawson's Bookshop. Perhaps most pertinent, he was a founding member of the miniature book society and publisher of over 100 miniature books. This book was letterpress printed on Peter's handmade paper using handset metal "Centaur" and "News Gothic" types. The decades are printed with a rainbow roll, and the color gradating from blue to yellow. The book is full bound in blue "skiver" leather and a paste paper band with Glen Dawson printed on it holds the accordion folded book closed. $50.
There are 5 specially bound copies that have not yet been made. Please inquire if you are interested in knowing when they will be completed.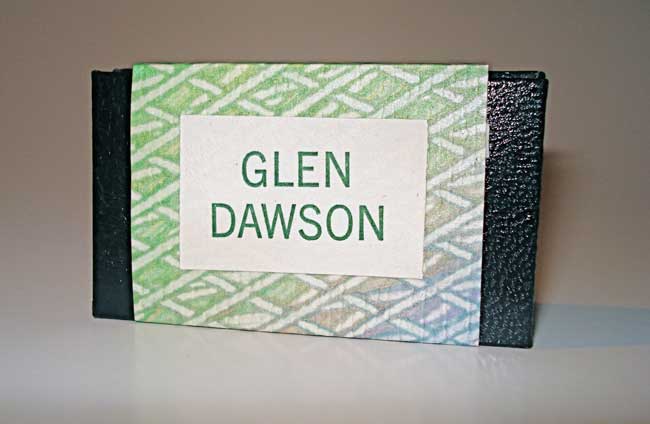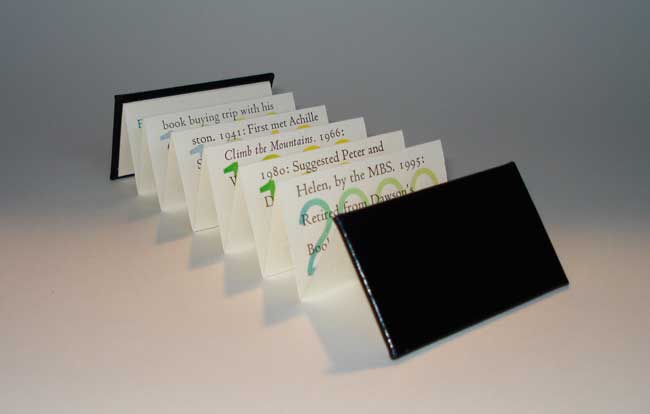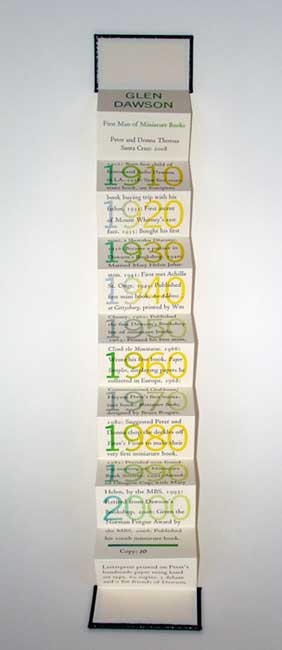 ---